Mrs JC's Super
A while ago we brought a Super for her indoors to learn to ride on as Barry AKA the Bajaj and the Black Roughie turned into a bit of a work in progress.
Purchased off trade me it looked and turned out to be an "asian import". One of my local scooter friends in Auckland went and had a look at it and her indoors liked the look of it so a deal was done. Its turned out to be quite a good scooter and runs well but is quite slow. There is a minor electrical issue with the horn but that will be fixed. It has the standard 6V magneto system with an average headlight and a pretty dim tail light. The stop light has a mind of its own and can best be described as intermittent.
For a learner rider its ideal and she's not too keen on going any faster but with the amount of other idiots on our roads I would rather it had a little bit more oomph just in case. Originally it would have had 8″ wheels but with the 10″ wheels and good tyres, the gearing is just wrong on it. It goes great around town and in 3rd gear on the open road but you wouldn't cruise like that all day long.
Shortly after its purchase I upgraded the crappy tyres on it and then I rode it from Ch-Ch to Hamner and back with the Canscoot ones on one of their jaunts. With its lower top speed, I just had to leave a bit earlier than everyone else. They were riding over to the west coast via some serious off roading tracks and I didn't want to push my luck with it. However it ran like a clock and I must say I was impressed with it as I didn't think it would get as far as it did and I was glad that it would be a good scoot for Mrs JC.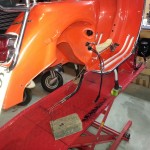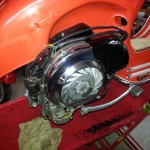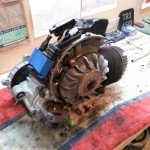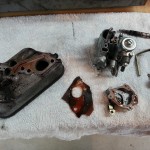 Not long after that some of our friends were on an NZ tour on their scooters and came and stayed with us for a bit. I went with them down to Bluff for a ride and tried to get up Bluff hill to the look out at the top. If you haven't been there on your scooter put it on your to do list. Its not the steepest hill in the country but on a scooter with no power it is quite challenging and if you miss a gear, in some parts, it will really test your clutch to get it going again. I didn't want to blow it up as she who must be obeyed, would be very grumpy about that, so decided that where it stopped was as far as it was going. The trip down Bluff hill was considerably faster and you need to be careful on the off camber corners.
I had been looking at a 177 kit or something similar for the Super when an opportunity came up to purchase a PX200 motor from a wrecked scooter.  An electric start and better lighting was something that appealed to Mrs JC so another deal was done and the motor was duly dispatched. I didn't want to have to cut a hole in the body for the oil level sight glass so decided to not keep the oil tank for it and to remove the oil pump assembly and pre-mix the motor. Filling in the oil channel and removing the pump fittings was pretty straight forward and while I was modifying the carburettor I also installed a larger main jet and drilled out the air filter for better airflow.
The Scootrs exhaust of doom should hopefully work better with this motor and I purchased a selection of main jets to see what will work best with it. So far I have replaced all the cables, run new electrical wiring and components and installed a battery box. It looks like the rear shock may have to be replaced or a slot cut in the body where the electric start housing now hits on the body.
I have been following a wiring diagram from the Scooterhelp website using a new light switch and some relays to get the electric start and the rest of the lighting sorted out.
Its been a bit of a mission so far but what else are you going to do?