Sally the Skelly
The skeleton (from Greek σκελετός, skeletós "dried up") is the body part that forms the supporting structure of an organism.
Skelly is also a name for a cutdown scooter.
A cutdown is a customised scooter (usually an Italian Vespa or Lambretta) with parts of the bodywork removed or cut away. Cutdowns were popular amongst skinheads and scooterboys during the mod revival of the 1970s and 1980s. While the style-obsessed British mod youth subculture of the 1960s prized the glamorous, metropolitan image of scooters, many skinheads and scooterboys viewed their bikes as simply a form of transportation.
While some scooter enthusiasts have focused on the stripped-down look, with just a bare frame and visible engine and mechanical parts, some scooterboys put back almost as much hardware as they had taken off, by adding customized chrome-plated accessories and racks.
Sally the Skelly is the current pilot for Elsie the Lambretta LC125 scooter and has been keen to get out and ride but alas, she has no eyes to see where she is going….
Sally's hobbies
While she is a keen scooterist, some of her hobbies include:
Bone Carving
Cryptic crosswords
Ghost riding
Planking
Anything humerus
Shaking, Rattling and Rolling
Playing her trombone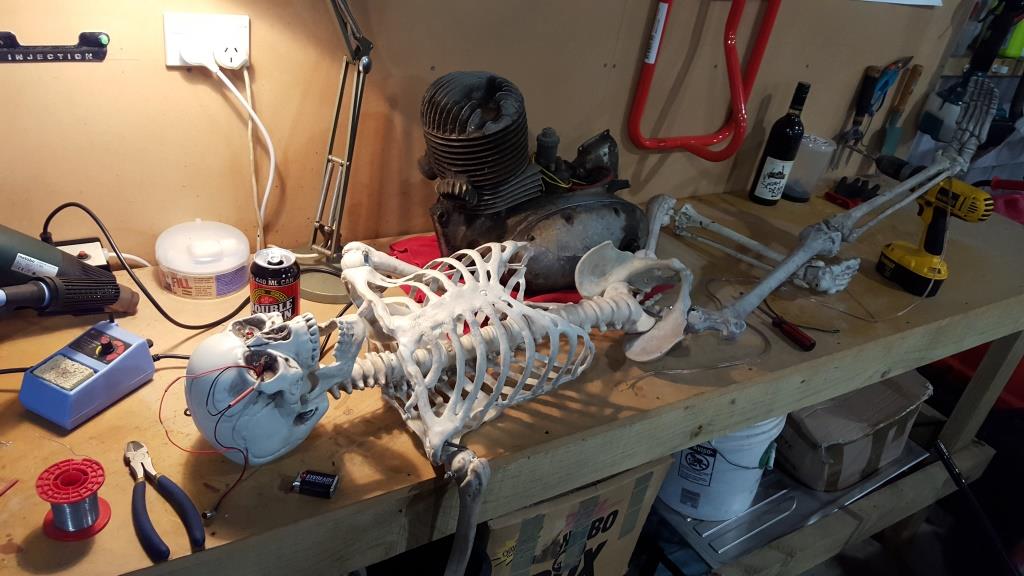 Sally's Likes
Sally likes lots of things but especially:
Riding her scooter
Flashing her red eyes
Not dressing
Dieting
Anything Orthopedic
Calling her friends on the telebone
Pirates
Who knows where and when she will appear next…