Recently we were fortunate enough to be able to travel to South Africa and to go on two Safari's. The two Lodges – Hoyo Hoyo in the Kruger national park in South Africa and Muchenje in the Chobe national park in Botswana were just awesome. Most of what you see of on TV about wildlife in Africa is just metres away by Landcruiser or Landrover and the guides are really worth the money for their knowledge of their environment and where to find animals at a given time.
They can also spot animals that you would just drive past and still haven't seen. If you are after the top 5 (or the big 5 in some parks) – Lion, Leopard, Rhino, Elephant and Buffalo then the guides are invaluable. We were lucky enough to see the top 5 and most of everything else we could by two very experienced guides from a feeding Leopard up a tree to a tiny Tortoise on the side of the road to a 5cm Chameleon on a branch of a tree we just drove past.
I would recommend either of these lodges to anyone contemplating a Safari in South Africa and Botswana. Check with the lodges to see what time of the year is the best for their area as the wet and dry seasons dictate the movement of the animals (and the mosquitos) and if you like fishing some lodges can offer this depending on the season. We were lucky enough to get a half days fishing on the Chobi river for Tiger fish.
After the touristy things we stayed in Capetown for nearly two weeks and found it to be an awesome place. Very good value with the exchange rate, nice and hot and friendly people everywhere. Some of the history of South Africa isn't the best (although to be fair its not just South Africa with a past…) and there are plenty of places to go and see how tough it was there, like Robben Island where Nelson Mandela was held and District 6 where coloured people were forced off the land.
There is a castle and the mandatory Table Mountain or the Waterfront where you can sit and eat or drink nearly anything, shop or listen to local musicians, go on the canal tour or the Capetown Wheel or if you are really keen – rent a couple of Vespa scooters and ride down to the cape point.
Some of our scooterist friends Craig and Kate had mentioned where they had got their scooters from when they were on holiday in Capetown so we went around to see the Scoot Doctor people about getting a couple of Vespas.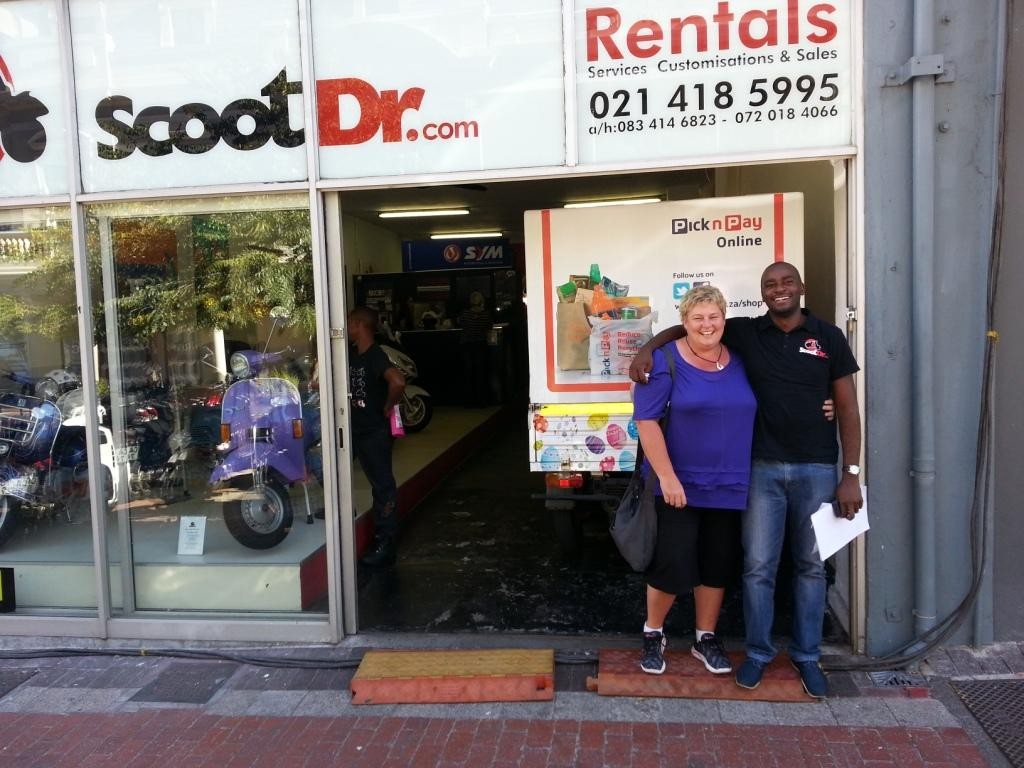 As it turned out they were about 3 blocks away from our hotel and pretty easy to find. Mrs JC was a bit worried about actually riding a fair way on the open road and through the city in another country on a Vespa scooter but an automatic 125 for her and a 250 for me were just the ticket. They came with a screen, top box and helmets and were a lot of fun to ride after classic geared scooters. Quiet, comfortable and with plenty of room under the seat for bags and jackets they were very economical as well.
Neil and Pete have been running the Scoot Dr business since 2006 and have a mix of scooter restoration, sales and servicing and rentals. They also service and sell tuk tuks.
We followed the route Pete had suggested from Capetown to Green Point, down the coast to Noordhoek, Hout Bay and Chapmans Peak then across to Fish Hoek and down through the nature reserve to the Cape Point. The road up to Chapmans Peak is a bit like the devils staircase on the way to Queenstown here in NZ but considerably higher and twistier. Great fun if you are an experienced rider but a little intimidating if you aren't especially with some of the buses taking the corners a bit wide…
As it turned out she put her big girls pants on and by lunchtime was actually enjoying it!! Awesome stuff.
Pete was very helpful in giving us advice on where to go and what to see and even answered the after hours phone when we arrived back a little bit later than anticipated and had to park the scooters in the hotel car park overnight. Nothing was an issue and we found them very easy to deal with and when we had some spare time later near the end of our holiday, we went back and rented the same scooters for another trip up the coast. We hadn't seen a lot of Vespa scooters while we were in South Africa and Neil had said that was because the import tax was quite high on them and that made the Asian scooters a better buy for some people. We did see a few small frames, PX or Bajaj based courier and some restored scoots around the place but there seemed to be mainly automatic vespas on the roads there.
If you are in Capetown and looking for a great day out in the sun on a Vespa scooter then get in touch with these guys.