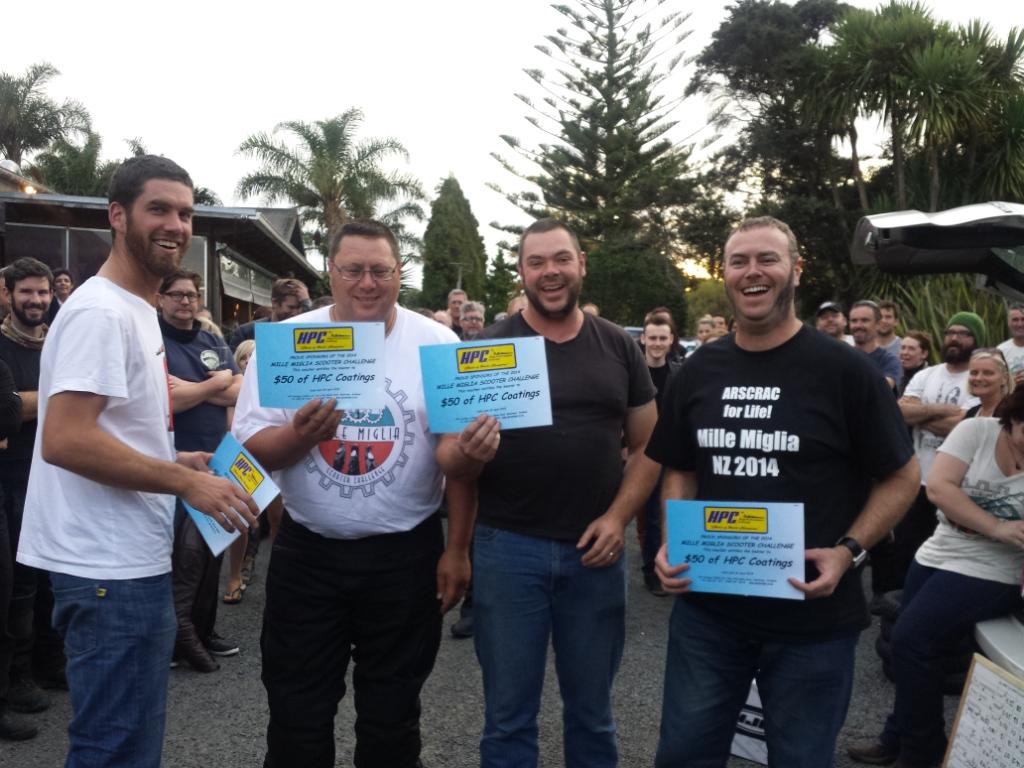 Mille Miglia 2014
Well it's been a couple of weeks since the Mille Miglia Scooter Challenge and the memories are still very good of the whole experience. Since then, due to a copyright infringement, the organisers have had to rename the event. From next year the event will be known as the Motoretta Tourist Trophy 2015 (MotoTT).
Team ARSCRAC took 4th place out of the 15 teams – impressive for having three first-timers in the team. We also got the Ye Olde Scooter Story award for The Dargaville Ken haul and People's Choice award for Spirit of the Mille.

From the start, 60 scooters, 2 support vans and 4 days of touring the top of the north island sounded pretty daunting however the weather and the organisers couldn't have worked together any better. There was an expectation of another awesome adventure but also that nagging feeling of, how many breakdowns, sore backsides and bad sleeps can be endured? We had a team with members from Perth and NZ set up to ride our classic geared scooters and my plan was to take my SS180 on the tour as the rest of the team were riding older GS160's and another SS180 but some unexpected engine noises at the last minute meant the reliable PX200 was called up. This affected our team handicap a little bit which was a bit of a bummer but as expected there were no issues with it and I actually got to learn how far it would run on reserve a couple of times. Team Arscrac had no problems with any of the scooters this year and all were in good condition before the scrutineering and the same after the event except for a couple of minor stand issues.

The format was simple: Follow a map and get 4 scooters from A to B in a pre-defined time period and complete some tasks along the way whilst not incurring any penalties. How hard can it be?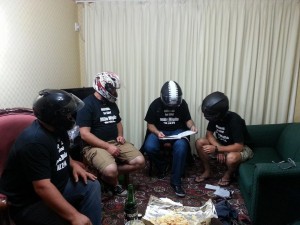 Right from the start we had decided to use a bluetooth intercom system that would keep us all keep in touch via our helmet headsets. Some of the team had used these before and really rated them. Never having had any experience with these devices before and having to install them wasn't too much of a problem as they were quite easy to use – once you read the manual and got everyone "paired". We used the Sena SMH10 units as they allowed for four headsets to be talking simultaneously. The battery life on the units was good with 2 days being achievable before having to recharge them again. We did go through a lot of windy sections of road where the "line of sight technology" had its limitations and contact was intermittent but a quick tap of the unit on the side of your helmet and you were away again. On the open road there were no issues as we rode in a group. I really liked the system as you could listen to your own music if you wanted, answer your cellphone or just chat amongst yourselves. It also made it a lot easier for directions as you didn't have to stop all the time as a group and if there had of been any issues you could have easily let the rest of the team know.
Also we had a designated navigator – a must for every team. TP had printed out the route beforehand and did an absolute corker of a job keeping us all in the right direction. There were some interesting moments with miss spelt signs and some signs that weren't even there after road works but overall Arscrac was always on track. Some of the teams had internal issues with members going their own routes after arguments over directions – you cant do this and expect to finish in time and then your team mates are penalized if they have to look for you.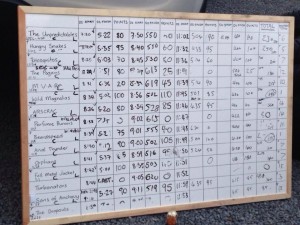 Knowing your range and speed was a real bonus as you could cut down on fuel stops and maintain a good average speed to meet your time commitments. Craig did an awesome job in maintaining a good pace for the group plus reporting back through the headsets, road conditions, oncoming cars and animal hazards.
It did take a few days before both hands stopped tingling after the event but to be fair it wasn't physically as hard as I expected it to be. There is a lot of mental toughness required for an event like this especially around day 3 and 4. We rode in mainly fine weather on awesome roads during the day, however some teams had to tackle gravel roads in the dark on machines that were as fatigued as their riders. Some of the gravel roads were pretty rough on 10″ wheels and a few riders had some close escapes. From memory there were only about 3 or 4 scooters that didn't finish the event and although there were some "spills" luckily no one got seriously injured.
There was some rain at times and most riders just adjusted their speed accordingly although the trip through the Waipoua Forest, where we had to stop and get a team picture with Tane Mahuta, was quite interesting in the wet. The route was quite challenging at times because of the conditions but always had great scenery and some awesome twisty bits and not too many road works.

While on a fuel stop we were "accosted" by a man at the Dargaville service station who had said to Mike that he had some old vespa stuff at home. Hoping we all wouldn't end up chained to a post in gimp masks, we fueled up and followed him back to his house.
Ken showed us some of the stuff he had got from a local dealership and bits and pieces he had collected over the years. An avid ford man, he had a really nice XP in his garage plus an interesting collection of other cars on his section. A cash offer and a shake of the hand and a deal was done. It never ceases to amaze me how many people will come up to you and say "I used to have a vespa" or a classic scooter and have some tale of an exploit or adventure on them.
This was nothing like any other scooter rally I've been on. It wasn't a race however there were a certain amount of teams being "competitive" and generally good natured banter was the norm. Some teams were in it to win and some of the captains meetings at the end of each days riding were real bitch fests apparently. Like all events, the amount of work that goes into it is sometimes forgotten and from my experience with this event I would say that Christiaan and his team nailed it – no question.
Like all events where enthusiasts are gathered you meet some awesome people and I just can't say enough about the organisers however some people really stuck out in my mind for what they did and what sort of people they were.
Andrew had a small motor mishap which finished his Mille early on yet he gave another rider a part off his engine so that he could carry on – legend
Jane took some time out of day three for a 17km run as part of her training for an upcoming running event then got back on her scooter – legend
Horace and Mrs JC were in one of the support vans and had some long days making sure everyone was safe and accounted for and generally helping where required – legends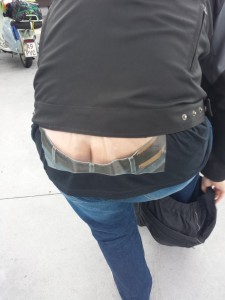 Teams Anal Thunder and the Wild Magnolias both won the event this year with the Sons of Anchovies just pipping us at the post. Sadly some of the teams disintegrated this year with some riders just leaving the event however new teams were formed and not many didn't make it home. The format for next year will be a little different with talk of a "touring" class and a more "serious" class but either way I am already looking forward to it.
Big ups to Mrs JC, the Arscracers and Christiaan and his team for not only an awesome event but for opening his home and going the extra mile for us southerners.
See you next year.