Mille Miglia 2014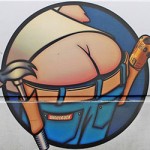 Southern Scoot has joined an Australasian team for this years Mille and is working hard to get an SS180 ready after an unexpected motor meltdown. The logistics are proving as difficult as usual with the wait for parts from overseas, scooter transportation from one end of the island to the other and back, planning a holiday and accommodation and 2 other events around the Mille but what the heck?
Good news is that Mrs Southern Scoot is going to be involved with the Mille support team this year, so there may be an upgrade in the accommodation and meals!
Team ARSCRAC are entering four 1960's classic Vespa GS and SS geared scooters for this challenge of 1000 miles over four days travelling over the top half of the North Island. This will be the 3rd event of its kind in NZ with 15 teams of 4 people taking part.
This isn't your standard ride out with the local scooter club.
Is this a Race?
No.
It is a challenge for you and your scooter. Speeding and riding like you stole your scooter is not encouraged.
In fact, by speeding and making too fast time, a team can be penalized. Each day's route is calculated on an average legal travel speed plus rest breaks.
Remember this is a long time in the saddle and each day is both mentally and physically demanding.Treating it like a race will only wear you out and cost you points.
Mille Miglia Tips
Take it easy, ride defensively.
Figure out how to strap all your stuff on your bike before the ride starts, including an extra fuel can.
When packing your bike make sure you can get to your tools, petrol tank and oil easily without having to pull everything off the bike.
Work out your tools with your team so you don't double up.
We will be riding through some isolated parts of the North Island so include a First Aid kit in your team's gear.
The ride is around 1600km so work out how much petrol your bike will use and budget for it.
The Mille Miglia starts on Thursday, 24th April and ends on Sunday 27th April. If you live in Auckland this will mean taking one day off work.
If you are from outside Auckland you may need to take 3 days or longer off to travel to and from the Mille Miglia.
Remember to allow time on Wednesday 23rd April to attend mandatory scrutineering. We will be having a pre-ride briefing and drinks following scrutineering.
Mille Miglia Rules and Point Scoring
Ignorance of a rule is not an excuse!
The organisers reserve the right to turn a rider away for an unsafe machine or riding gear.
Bikes must have new tyres. Do not underestimate how quickly a tyre will wear out. A new tyre on the rear will be half gone after 1000 miles.
If spare tyres are carried, these must be of a good standard.
Teams must travel as a group as much as possible. Any riders busted riding loose (more than 5 minutes away from the rest of the team) will incur a 15 point penalty at the end of the day. One penalty per rider per day.
No mounted sat navs. Smart phones are permitted but riders must be standing away from the bike to use them. Penalty for getting caught is 15 points. Getting more than once a day is 50 points.
A team's placing is taken from the last rider of a team through a checkpoint. If a team member doesn't make it to the checkpoint, rule 5 applies.
The organisers are in it to win it – no whinging about unfair advantages as there is none. We are spread throughout 8 teams and don't know the route any better than you do.
Each team will have a captain who will attend a captains meeting each night for a briefing on the next day and to decide on any penalties to be applied to the teams.
Point Scoring:
Each team begins the event with a total of 400 points (100 per day). The object of the event is to retain as many points as possible. This is done by avoiding daily penalties and accumulating awards. A team can only lose a maximum of 100 points per day.
Point Penalties :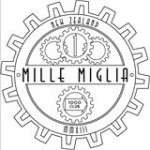 Missing a checkpoint -25
A team member breaking down without their team realising -100
Arrival before the target time -10 per 5 minutes
Arrival after the target time -5 per 5 minutes
Caught using a smart phone on a scooter -15 for first instance
Riding 5 minutes apart from team mates -15 points (to be judged at captains meeting)
Team/scooter Handicapping System
Age of Scooter Time Engine Size (Actual)
2014-1901 0 198+ 0
pre '81 10min
171-197 5min
150-170 10min
136-149 15min
Below 135 20min
Small frame bonus +25 minutes (one bonus per team per day).
4 Stroke bonus -25 minutes (one bonus per team per day)
If a team member cannot start a day with the rest of their team, the teams handicap will be adjusted down accordingly – a team must have at least 3 riders to be eligible for final prize
If a rider breaks down and rejoins the rally on another scooter, the team handicap will be adjusted accordingly
For scoring purposes a race official will be recording the departure and arrival times in 5 minute blocks.
Arrival time is taken from the last team member to arrive at the checkpoint (or from the second to last team member when the abandoning of a member is notified to a race official)
Points are calculated for daily totals and each team's daily total is added together for the final total. The team with the greatest number of points in the final total wins.
Any arguments about the engine capacity may need to be resolved by physically checking the engine whilst on tour. This will involve the organisers removing the head to measure bore and stroke. The organisers are not liable to rebuild the scooter again afterwards. No challengers into the capacity of a scooter are permitted on the final day.
Individual prizes don't contribute to the daily or final total.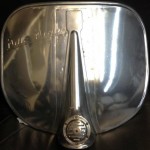 Teams and their current handicaps are:
10″ toy boys 0:15:00
Team Perfume Burners 0:25:00
Team Beardspeed 0:25:00
Non Desiderato 0:25:00
Wild Magnolia Corse 0:30:00
Travelling DJ's 0:30:00
Team Anal Thunder 0:30:00
Turbinators 0:35:00
Team Hedge 0:40:00
Orphans 0:45:00
Mt Vic Asian Resto Motorsports 0:50:00
Team ARSCRAC 0:55:00
AL Motorsports 0:55:00
Team Hungry Snake 0:55:00
The Unpredictables 1:40:00
The Mille Miglia (Italian meaning – Thousand Miles) was an open-road endurance race which took place in Italy twenty-four times from 1927 to 1957 (thirteen before the war, eleven from 1947). Mille Miglia is also the name of a jacket, named after the race, inspired by the 1920s racewear and designed by Massimo Osti for his CP Company clothing label. The garment features goggles built into the hood and originally had a small circular window in the sleeve enabling the wearer to see their watch. The jackets have been produced for a long period and are still popular with British football casuals.