The eleventh annual NZ Classic Scooter rally was held in Inglewood, near New Plymouth, this year at the Vertical Horizon adventure centre over Labour Weekend.
Pictures here.
Organised this year by Thornton Peck and helpers, Southern Scoot decided to take a look and maybe get some work done, by Mr Skoot, on the scooter at the same time. A six day trip, over 2000kms with a 900km ride home, should be good…..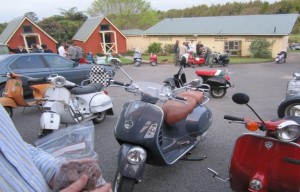 The PX200 has been a great scooter in the 3 years I've had it, never missing a beat, but it has lacked a bit of horsepower (nothing to do with what it has to carry or how its ridden, of course). Matt Brookes had previuosly  modified the stock exhaust and got it coated in a rust proof silver coating, while not a sito plus, the exhaust modification gave the PX a little more torque through the gears but the tall 4th gear on the PX was a hill hater and hardly a highway hauler. If its blowing just forget about it….. After the IOW trip and talking to a lot of scooterists over there they all recommended "get it kitted out mate, know what I mean ?" Also I got some new front and rear suspension, rear 3 in 1 rack, flyscreen and some other bits and bobs from the parts fair we went to at the IOW rally, so was keen to get the scooter sorted.
I'd investigated the options for engine upgrades with Polini, Malossi and Pinasco being considered. Pricing and performance were the main factors as well as running it in, which as it turned out was the decider. After getting pricing from Matt and going over the options it was the Pinasco  kit for me as it could be installed and I could run it in doing the Taranaki trip – mint ! now I just had to explain it all to the wife……. The English guys recommended a company called SIP so Matt sourced the kit from there along with a T5 4th gear. After organising a freight company to send the scooter to Wellington, a cheap (not) flight, Monday night accomodation , rally costs, ferry back and spends for 6 days, plus 3 days off work, it all added up to quite a bit and a lot more explaining to the wife who to be fair was  real good about it and only mentioned new golf clubs or a trip to a pacific island with the girls once or twice ! Oops, I forgot to mention the new tires and bar end mirror…….ah well…..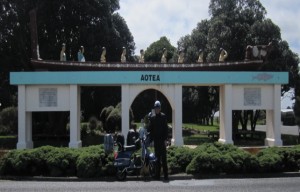 I had sent my riding gear to Matt previously to cut down on the hand luggage on the plane and after a ride on the orange bus from the airport arrived at Pirie St. I had asked the bus driver to drop me off at Piri St but he didn't know where that was, he did however know where Pie-ree St was – the girl from Gore wore a purple jersey strikes again ! Matt just had a few minor things to do to the scooter and a delay in freight meant the T5 gear hadn't arrived in time to be installed, so Jess took me to her favourite coffee shop just around the corner. Wellington is just another planet compared to Invervegas but we are getting better, so after a nice chat and a caffeine fix it was back to Skoot base and time to load up the PX for the trip. The plan was to meet up with the other travellers in Bulls at 3.00pm but Matt and Jess still had things to do so a quick change into the riding gear and with directions to the nearest garage and the motorway I was off – for about 50m where I ran out of fuel at the lights at the bottom of Pie-ree St ! Bugger, not the best of starts and Matt had lent me a spare fuel container that I hadn't filled yet ! Anywho… after pushing the loaded scooter off the footpath (Matt and Jess had gone by now) I was now wondering, in full riding gear, where I would have to walk to for fuel. Right across the road was a Toyota dealership so I went over there with the spare fuel container and after a chat to the receptionist she got a salesman to sort out some fuel for me which he then filled my scooter up with and wouldn't take any money for – what a legend !
Onto the motorway I was pleasantly surprised to briefly attain 120kms on the speedo (Don't try this at home kids, stick to the speed limit at all times, I know thats really only about 110 on the PX speedo) but thats the fastest its ever been, anytime – anywhere. The new rear suspension and tyres made a marked difference to the handling, however the new front shock wasn't much better than the stock one although to be fair carting nearly 200kgs and mainly using the front brake didn't help. Hopefully Scooter Sante will get me a better one. I didn't get the T5 gear installed as the scooter seems to be coping OK with the stock 4th gear, so will see how it goes. On the way home from Picton with Prunes I managed a couple of top gear hills where previously I would havebeen in 3rd gear and fanging it.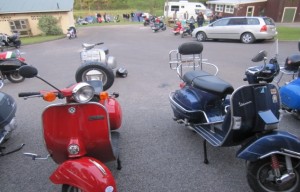 The weather was great with not much wind and good roads to Bulls, I was able to sit on about 95 – 100kms depending on conditions. At Bulls I met up with the Napier boys and some of the Wellington crew and the plan was to head off to the Mowhanau Holiday Park at Kai Iwi, just out of Wanganui, to camp for the night. I ended up getting to theholiday park first and got a cabin, stowed my gear and went to the local pub for tea.
The camping ground is great with awesome facilities for families, caravans and tenting. Being off peak prices were very reasonable as well and the new owners have done up the shared facilities, installed new cabins and have a cafe going at holiday times. We had the big breakfast the next day and can recommend it to anyone. I was surprised at how clean and tidy it was and lets face it a plasma screen in the lounge room with freeview TV was a real bonus !
Riding along the coast to Hawera was windy in places but it was warm and traffic was good, we got a lot of waves and toots from other motorcyclists going to other events on that weekend. By the time we got to the rally site on Saturday afternoon we were ready for a few beers. The camp is in rural Taranaki and finding it wasn't too hard. Its an awesome facility and apparently is always booked out for any long weekends and holidays and we were very lucky to get it. Thornton let us know the rules and pointed out the dorms that were available. The dorms were simple yet clean with bunk beds and a good shower. We quickly organised ourselves into 2 groups – snorers and non-snorers and as it turned out Thornton had possibly allowed for that with ear plugs being included in the rally pack – good stuff. Nick, Dale and I all unpacked and had a quick l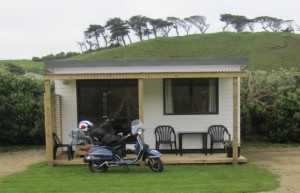 ook around before Cam and Dale and I went into Inglewood on a beer run to the local supermarket – something we don't have the luxury of in Invers. The new 3 in 1 back rack has just the right amount of space for a box of beer – mint.
That afternoon there was scooter racing around the local circuit on an auto something with a dodgy looking wobbly rear wheel. A St Johns ambulance was in attendance but thankfully wasn't required. Most people had started to arrive by now so the story telling and catching up with old friends was well underway. Meals were provided if you wanted them and were great with a good selection and friendly helpful staff on hand. Hot drinks were available at all times and there were plenty of places to sit and talk and just relax.  After dinner the scooters were displayed in the rec hall for everyone to have a good look at them and then Northern Soul DJ's Ian and Chae, both on scooters, set up for a gig in the main hall. A lot of the tourists were pretty tired by this time and participation was poor considering the quality of the show. Myself and a few others enjoyed it and drank and danced until it was time for bed.
After another good meal for breakfast we were set for the Sunday ride out on good windy back roads in ideal riding conditions and ended up at Mikes Organic Brewery for lunch. The plan was to have  lunch then head south to Waitara Go Kart Club for a racing event and to catch up with the Retro Rockers however IanTollerton from Nelson and myself were a little late getting away after lunch and took off trying to make up lost time on the road. The scenery up the coast was great and the roads are excellent for scooters and bikes but we somehow couldn't catch up with the rest ofthe pack and stopped in a layby to have a look at Ians map. Hmmm we are heading north not south – bugger. By this stage Ian was very low on fuel so we had to push on to see where we could get some. We stopped at Mokau and they directed us to the nearest fuel about 20kms up the road. After fuelling up we turned around and headed back to Waitara. I met up with some of the other riders in Waitara after the racing had finished and we made our way back to the camp. After another good me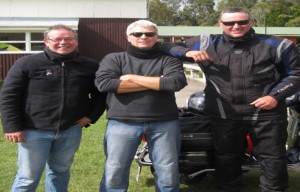 al there was a parts fair in the rec hall and movies in the main hall followed by the prizegiving.
I was quite chuffed with the furtherest travelled award but wasn't thinking about the two 10 hour days to get home again. I met a lot of good people on this rally, people that you hear about and see on email lists around the traps, all friendly and with stories to tell – Nick with the red bajaj and the very tasty baking, Cam with the 4 wheel drive minus seats for his scooter, Dale with the tidy blue vespa and cork accessory, Debbie with the dodgy Belladonna, Kate with the broken honda and needle and thread, Ian and Chae and partners, the 3 Amigos – Guy, Ant and Lance aka the Napier Scooter boys, Alan with the nice Lammy and campervan, Coffeeman and his side chair outfit, just too many to meet and not enough time.
The trip back to Wellington on Monday from the rally site was an exercise in scooter maintenance – 4 of us left and by lunch we had 1 breakdown – the points backing plate on Dales scooter had shifted and just needed re-adjusting and was  sorted out reasonably quickly, Debbies Belladonna wouldn't start until Matt turned up and pushed it, then Nick had a wire connector break off one side of the coil – no idea how that could have happened but again that got sorted. Then Debbies Belladonna stopped, again, and just wouldn't start. It took quite a few hours out of the day with a lot of pushing and dismantling and it eventually ended up in the back of Ian and Chaes van. Then there was the appalling traffic with everyone backed up for miles at some stages as the long weekenders were all trying to get home.
I had arranged with the Canscoot boys to meet up on the rally and ride back with them, but  Julian and Prunes were the only ones there as Chalky had to cut the trip short. Prunes was on Chalkys SS180 and I met him at the ferry first thing Tuesday morning. Just settling into having a snooze on the ferry and the band starts up, didn't need any sleep anyway…..Got to Picton about 12.00 and had fish and chips for lunch. It turned out to be a 6 hour trip to Christchurch and with only one unforeseen gas stop just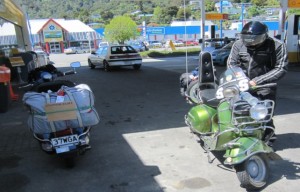 before Kaikoura and the usual roadworks, it was a great ride  in good conditions.
I stayed the night at Prunes (cheers Mark) and he showed me around some of the earthquake damaged buildings and homes without chimneys. A lot of places were boarded up and in some streets rows of shipping containers were acting as barriers between the building and the street. Thankfully there were no aftershocks that night and after a good sleep it was on the road again, just can't wait to get back on the road again……
It turned out to be a 10 hour trip home from Christchurch to Invercargill and the scooter went very well. It does however now use more fuel so the old rule of never pass a gas station on your scooter came into play. The ride was great as the conditions were excellent all the way home until about 20kms from Invercargill where it started to rain !
How F&*%!@$ typical is that ? I shouldn't have been surprised really !!
Undoubtedly the best Labour Weekend I've had for ages.
8-10-2010
P.S – a speed camera ticket turned up in the post on Saturday…….