NZ Classic Scooter Club Rally
This years NZCSC rally at Tatum Park in Manakau, which is up north on SH 1 between Otaki and Levin got off to a bad start for the Black Roughie.
Planning to leave early didn't happen and while wanting to get to Ch-Ch on the first day, it all went downhill from there. Not to mention a breakdown within the town boundary putting paid to any chance of riding any distance for the day.
Like all long road trips on the scooter you check stuff like the tyres, the engine, tools, oil, spares and generally anything that may be loose you tighten it up and then you set off thinking you are good to go. You have your riding suit and boots on, it's a stinking hot day with no wind, got the blue tooth hooked up to your phone and got a few tunes happening in the helmet – perfect for scooter riding. Every things going good and all of a sudden there's no power and the scooters running like a dog. Pull over to the side of a busy road and try starting it (its always busy when you breakdown…) the scooter wont start, its stinking hot, get the side pod off and there's fuel everywhere. Turn the fuel tap off, sit on the footpath in a shady spot and wipe the sweat out of your eyes with the dirtiest, oiliest (is that a even a word?) cloth you have in your toolkit and think nice thoughts…Bugger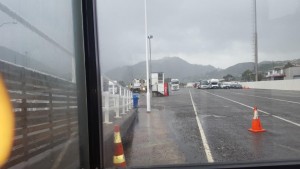 Luckily for me, Mrs JC wasn't far behind in the truck with the trailer so a nice cool workshop, with a drink and change of shirt seemed the best place to fix it. The fuel hose clamp on the carburetor had broken off – go figure, so it was an easy fix. The scooter ran well after that, getting to Oamaru later in the afternoon. Part of the trip was about road testing the Roughie as it has had a few modifications done to it to hopefully make it reliable with a good range and reasonably fast to complete the Motoretta TT. With time against us and a ferry to catch in Picton the scooter went onto the trailer to get to Ch-Ch before midnight. Staying with family was a bonus and dropping off scooter parts to a local scooterist goes with most trips we make now days. The drive to Blenheim was uneventful except for part of the rear rack on the Roughie broke going over some rough road works and left a 5L fuel can hanging by a bungy cord. Bugger.
The plan was to drop the trailer off at a mates in Blenheim and then ride the scooter to Picton, leaving the car there for the trip back. By the time we got to Blenheim it was raining. By the time we dropped the trailer off it was pissing down. About half way to Picton it was torrential and dangerous. Not being able to see was offset by being soaking wet although luckily for me it wasn't too cold however aqua-planing on 10″ wheels is no fun at any time. A brief stop to clear the visor and spectacles (for those who ride with glasses, its a real PITA to stop fogging up but somehow keep the visor down and the rain out) and with no break in the weather imminent I decided to push on and get to the ferry terminal as safely as possible
The Roughie ran out of fuel just as I coasted into Picton in monsoon conditions. Bugger
A nice man saw me on the footpath and kindly offered his garage, thinking I had broken down but luckily for me I had the 5L fuel can on board. Mrs JC had a mission getting our car parked and the luggage sorted and I managed to get to the terminal and sit in a cold bike shelter to wait for the ferry which had now been delayed with the bad weather. Bugger
The only dry clothes I had on by now were my socks so things weren't so bad and then another solo rider turned up and we chatted away as you do. Eventually some other bikers turned up wet and cold and we all sat in the bike shelter wringing out gloves and talking bike stuff. One of the guys mentioned that he didn't have any problems with his visor fogging up in the rain as he had wiped the inside with a cloth he had put some shaving foam on. My new friend and I thought he was having us on but his wife got the cloth and the shaving foam out for us, so we tried it on our visors. I must say it worked very well and as an added bonus my helmet smelled minty fresh – very nice indeed. After a hot feed and a beer on the ferry with Mrs JC we settled down for the trip watching rugby league on the telly.
We were met at the Wellington ferry terminal by one of our good scooter friends and a short trip north soon dried out most of my riding gear.
I can't say enough about the scooter friends we have made over the years whether here in NZ or in the UK or where ever we have been lucky enough to travel to. We spent good times with great friends, stayed in their home, then rode our scooters and then spent more time with more scooterist friends – good times all round. Thanks you lot – you know who you are.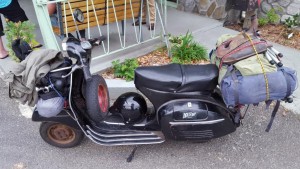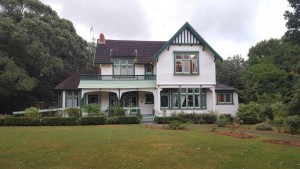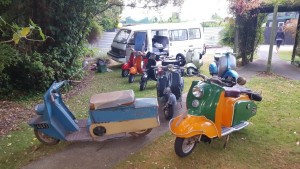 Travelling up to the rally site over the Akatarawa Road through the Tararua Forrest Park was fun in the dry, unlike the last time we rode that way in the rain, however we encountered more traffic this time. If you haven't taken your scooter over that road – do it now. We had a good ride up SH 1 and I was quite surprised about how much traffic there was as its not much fun not being able to sit on 90-100 kph with impatient motorists doing dumb stuff, however we got to the rally site fairly quickly. We had fairly salubrious accommodation and caught up with other scooterists as they arrived. Some had planned to stay in their van however a scooter leaking fuel soon made that not such a good idea, so some alternative bedding arrangements were acquired.
Like the last NZCS Rally at Inglewood this one was quite casual and well organised with a good turnout of scooterists travelling from as far as Auckland, Nelson and Invercargill. The accommodation and meals were pretty good and a lot of good friends had put in the effort to get the work done behind the scenes. The "Table of Cack" was well supported with good bargains (or should that be bargins peeps 🙂 ) to be had.
I liked:
The tee shirts – good work guys.
I liked the 1961 Miele moped
I liked Marks Dayton Albatross
I liked Thorntons Prior and Stewart
I didn't like:
The ride out to a local cafe was great however it was here the Black Roughie decided to go cross country as a right hand bend had the exhaust scraping and after quickly straightening up there was no road left. Luckily a vacant grassy section was there and a bumpy trip over the grass and back onto the road was a good outcome. On investigation it was noticed the scooter wasn't sitting right at the rear end and was looking rather low, on reflection I hadn't put a spacer in with the new shock absorber and the scooter now had about 3 inches less travel then it used to on the right hand side. While an easy fix it could have been worse. Bugger
A man known as "Snow" who had traveled from Nelson, was riding a yellow small frame Vespa 50 he had restored but was having some electrical issues. It turned out to be a faulty capacitor. A replacement was secured and soldered into place with a team effort supplying tools, parts and soldering suggestions and the venue supplying a footpath to work on. Classic stuff.
For us the rally was more than just scooters, it enabled us to catch up with so many friends and family and turned a 2 day event into nearly a 2 week holiday. Luckily for us we are able to do this now and just have to plan accordingly and while some trips go without a hitch, its never, ever boring, on one of Jane's Tours.
On a final note – lets be careful out there.