Reachies Belladonna Scooter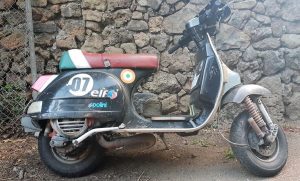 Recently a Belladonna scooter was advertised for sale in Auckland
Black Bella 2003
– 172 QUATTRINI M1X MilleMiglia plus 60mm Mazzucchelli full circle Crankshaft. More or less 182cc
– All engine work undertaken by professional technicians.
– Quality bearings and seals
– Mikuni TM32 flat slide carburettor
– Quattrini V Reed and inlet manifold
– Lincoln Shaw programmable electronic ignition
– Primary upgear
– BGM Pro Superstrong CNC full Clutch assembly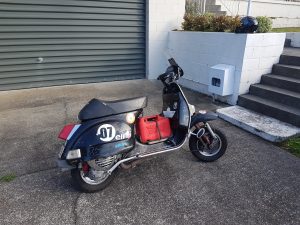 – Grimeca Front Disc brake assembly
– 11 Litre long range fuel tank with built in header.
– Mikuni vacuum fuel pump
– SIP speedo with temp gauge
– Custom seat
– Large wide rim tyres front and rear – 4.0-10 rear & 110/90 front Bridgestones
– Bitubo shocks
– Vintage Hotwing 226 exhaust ($800 USD retail expansion chamber)
– Rego on hold, but new WOF at time of sale.
– Body looking tired and weathered but oozing character
Michael had decided to call it a day on owning this scooter and was offering it for sale, along with another similar scooter. Both scooters were part of a winning Motoretta team and Michael is a well known, competitive scooterist with a long history in all things scooter related. It would arguably be one of the most recognised scooters around the traps, here in New Zealand and has always been a fast and reliable touring machine.
With the Motoretta TT fast approaching and not being able to spend enough time in the shed on projects, the decision was made to purchase it and send it to Wellington. Over the years I have been really fortunate to have met and made some awesome friends in the NZ scooter community which has allowed me to participate in events all over this country and in the UK. Thornton and Mike have both been instrumental in helping me to get a scooter ready for the next Motoretta event, set to start from Taupo, later this month.
This scooter was a no brainer purchase for me and I have only changed a few things on it and now after riding 700 kms from Wellington to New Plymouth and back, has so far confirmed it to be, a fast and reliable tourer.
Reachies Belladonna Scooter