9am, Thursday 8th February – 12pm, Sunday 11th February 2018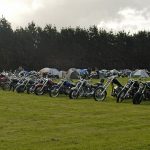 MUNRO FAMILY TROPHY
The Munro family has generously donated a spectacular trophy which is given to the "Competitor of the Year" at each annual Challenge. The Munro family presents the trophy in honour of Burt to the winner each year. They attend each individual event, and look for competitors who exhibit similar traits to Burt.
Things they look for:
Does the competitor compete in Burt's speciality events?
Does the competitor maintain their own machines?
Does the competitor make their own parts?
Is the competitor determined to give everything they have to win?
Saturday 2nd June – Sunday 3rd June (Queens Birthday Weekend)
Idaburn Dam, Oturehua, Central Otago
Come to Central Otago, an area known as having a 'World of Difference' and join us at the Brass Monkey Rally. This is one of New Zealand's best known and longest running Motorcycle Rallies where 1500 – 2000 motorcyclists gather annually at Oturehua to celebrate motorcycling in one of New Zealand's coldest places to enjoy a large bonfire, live band, various events and displays which makes this Rally memorable.