Canscoot Show Weekend Ride 2017
The annual ride with the Canscoot ones from Christchurch was another interesting journey into Central Otago with great weather and awesome riding conditions.
We had organised to ride up to Cromwell and then on to Bannockburn to meet up with the rest of the group on the Friday night and staying at the Cairnmuir Motor Camp. The Christchurch based ones had stayed in Geraldine on the Thursday night and their plan was to stay in Bannockburn then head back through the pig route to Oamaru for the Saturday night and then back up to Christchurch on the Sunday.
For the first time I was lucky enough to travel with Phillip, another local scooterist from Riverton, so that was great to have someone else along for the trip. The scooter he rode for this trip was a standard PX150 with a ScootRS pipe and he has a Sportique that he is currently working on getting it roadworthy. He has been involved with all sorts of bikes for a long time and is a regular Brass Monkey participant.
I got the SS180 ready for the trip and had checked everything off the list and we met at a local garage to get fuel and headed to Gore. On the back road to Dacre the SS was going great and then started missing a bit, which I thought at the time may have just been dodgy fuel. We were making good time and had a tail wind so a good start to the day. I got as far as the Edendale hill when the SS decided to spit the dummy and stopped halfway down the hill. Bugger. After a spark plug change and then swapping out the CDI unit the spark was still intermittent and fairly weak so leaving Phillip to hold the fort, I rode his PX back to collect my truck and trailer. Once back at my shed I pushed the SS into the naughty corner and loaded up my spare PX200 and we set off again. It was a bit of a pain but that's scootering and the weather was holding up well so we ended up having an awesome ride up to Roxburgh, Alexandra and into the Bannockburn Hotel for drinks and tea.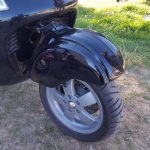 The Bannockburn Hotel had an interesting menu, nice beer and good service with the owner recommending our meal. They also provided their courtesy van for pick ups and drop offs so no one had their scooter there. We had stayed at the Cairnmuir Motor Camp before and knew that it was clean with the basic bunk bed accommodation we normally have for these trips. There was some disruption to some lighter sleepers in the cabin through the night due to some snoring activity. Prunes, you were missed mate.
It was a good turn out of scooters with a few PX's, 2 very tidy Rallys and a GS160 and some auto's making up the numbers. Pete from Christchurch was riding a black GT250 that had an interesting modification to it's front guard that also came with a bit of a story. The bike needed the guard replaced and Pete just happened to have a guard off an old LD Lambretta in his shed – as you do. He got it modified and painted and it looks very good and is as functional as the original. Apparently the guard and some other LD parts used to belong to Ant, another well known scooterist around the traps, who I got the front shield head light holder and surround for my LC125 from a few years back.
Saturday was another good ride through Clyde to Alexandra for breakfast and then we headed off to Naseby for lunch. One of the most charming of Otago's gold rush settlements, Naseby is often referred to as the 'jewel of the Maniototo'. Situated 2000 ft above sea level, this historic town is located within Naseby forestry, 10 minutes northeast of Ranfurly. Set below the Mt Ida Range, below which are the classic high country summer runs of Mt Ida and Soldiers Syndicates, Naseby is a rich contrast to the surrounding tussock laden, golden rock lands. Gold was discovered in 1863 and as many as 5000 diggers once toiled on its goldfields, but gold recovery often went unheralded. Relics and tailings can still be seen along some of the many walkways in and around the forest. Extensive races built to supply the miners with water for sluicing are now used for irrigation purposes.
In Naseby we met up with some of the locals and Ian offered to show us his workshop and some of his bikes. It's so typical of the people that you meet when you are riding around on scooters or any motorcycle for that matter and Ian's workshop and mancave were awesome with a good collection of bikes that he had owned and raced.
From Naseby, it wasn't too far to Ranfurly where we fueled up and met up with Matt who had ridden up from Dunedin for the day. The rest of the Canscoot crew were heading back to Palmerston so we decided to turn off and go back to Dunedin through Middlemarch. After a comfort stop at Strath Taieri Hotel and a pool lesson for Matt it was back into the heat and an enjoyable ride through to Dunedin. Takeaways for tea and a few drinks with family was a great end to a good days riding.
On Sunday we had decided to head back south through the Taieri river mouth along the coastal road and into Waihola, a ride I hadn't done before. When we got to the Taieri river mouth, Phillip's PX stopped and wouldn't start. It had spark and fuel but was hard to start and wouldn't idle but he managed to get it running and we were off again however His PX was right down on power and it was a pretty slow trip along SH1 and into Balclutha. Just before Balclutha the back wheel on my PX got a bit twitchy and I thought I might of had a puncture so pulled over onto a grassy spot off the road while Phillip carried on up the road. The rear tyre looked OK but was a bit wobbly and as it turned out, the axle nut had worked its way loose shearing the cotter pin off. Out with the tools and after a brief inspection the wheel hub had worn out the internal splines and that wasn't something we could fix on the side of the road. While working on my scooter Phillip walked up and said his scooter had stopped again and wouldn't start. Bugger.
We were lucky enough to find a nice spot up the road where we could lie in the sun with our broken scooters and wait patiently for the best support vehicle in the world (thanks Jane, you are awesome!) to come and collect us. Other than the breakdowns it was a most enjoyable weekends riding with some great people through some fantastic scenery and roads.
Hopefully the experience hasn't scared off Phillip and as it turned out he had holed his piston and my new rear hub was an easy fix. The SS has electronic ignition and it was a dodgy solder join that was causing the issue so another easy fix for me.
Ride safe.