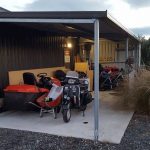 Winter is here and we recently had a -6 frost, just nippy enough really.
Not much to report on the scooter front as the new workshop is still under construction.
The Bajaj was left outside in the interim and has expressed its disgust by leaking oil in the new carport.
Looks like the Canscoot ones are organising another trip into central Otago this year for their show weekend ride so if you are local and want to meet some other scooterists, get in touch.