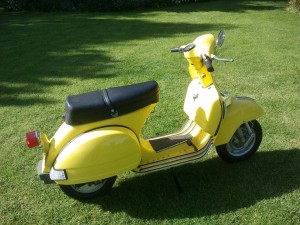 On my travels for business and what not I was recently working at a local firm, Leitch Motorsport and Restoration. Its a small home based outfit run by Barry Leitch and they specialize in restoring all types of vehicles. They are the epitome of your small business here in NZ with a "can do" attitude and have clients from all over the globe getting them to do projects.
Barry and his family are also motorsport enthusiasts with a big interest in Karting. One of the projects he had on the go for a client was a Vespa PX 150 re-powered with an electric motor. Externally you wouldn't know it was electric powered until it was started and moving. For a scooter it's about as opposite as you can get to the original 2 stroke, smoking, rattly PX motor.
Everything about the scooter looks original until you have a good look at it. The workmanship is as you would expect and a lot of thought has obviously been put into it. Underway it is silent and reasonably peppy in a twist and go kind of way with a top speed of 30KMs its not a highway cruiser but the technology for electric motors is changing all the time. The omission of a clutch lever is the most obvious thing missing at first glance plus a couple of gauges mounted in the glove box obviously aren't stock.
Apparently an American client commissioned the project, so it will be interesting to see if they catch on. The price of them would be quite a lot more than the original 2 stroke version but as the technology changes prices may make them a viable option for commuters and students.