Vespa Engine Stand
I have been thinking about building a stand for vespa engines for a while now and have seen a few designs on different sites and forums and used a type that you clamp into your vice. The assembled engines can fall off your bench if you aren't careful and having a stand makes them easy to reassemble and more importantly start and test the running engine before installing it into the frame. Most of the stands I looked at didn't allow for the exhaust to be connected and some also didn't allow for the kick start to work effectively.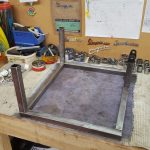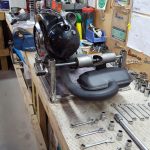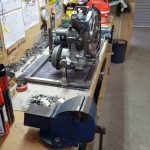 I managed to get some 6m lengths of 25mm square steel tubing for a box of beer and just had to hacksaw off what I needed for the stand and then run the bits past the wire wheel to take off the surface rust. I had already cut the end of an old shock absorber and welded a bolt to it. I only spent around $20 on hardware from E Hayes and sons for the threaded rod, wingnuts and a couple of plastic tube inserts.
Sliding the engine across the threaded rod allowed for the exhaust to fit with room to spare and then it was just a matter of lining up the suspension post to suit and then welding it all together. I wont be getting a welding job anytime soon but everything is pretty well stuck together and after a quick coat of rattle can primer it was on with the basic black top coat.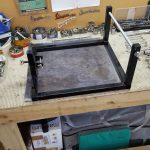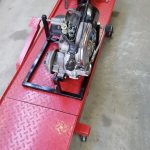 I had been tidying up a 150 engine for another project and this was the perfect opportunity to test it. I turned the fuel feed on the carburettor upwards and jammed a fuel funnel onto it. So after a bit of choke the engine started and ran although it wasn't quite right and after a cursory examination I had forgotten to put the idle screw in the carburettor….