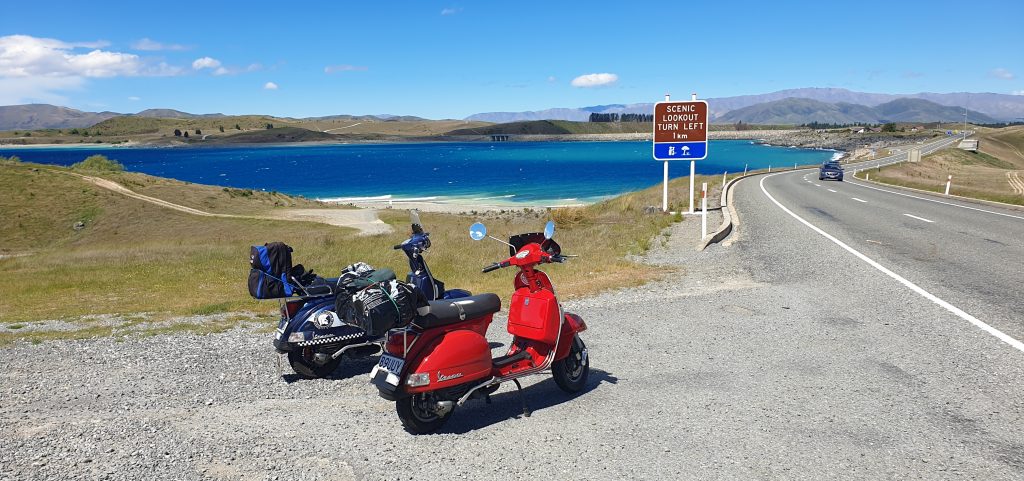 Riding over 500kms in a day on a scooter, can be quite daunting for some people but is something my friends and I do as regularly as we can. Based where we are at the bottom of Aotearoa we generally tend to have to travel to attend the different scooter events that are on.
The Canscoot club generally run a couple of events per year and we try and attend them when we can. The show weekend ride is a long weekend for the Cantabrians and they normally choose somewhere interesting to go to.
This year we all met up in Fairlie. Having never been there before, it was a no brainer. It's a nice little place with a good campground and some great little cafes and bars.
The ride up on Friday morning was looking a bit dodgy by about Roxburgh, where the ominous rain clouds threatened. However other than a few spots of rain here and there we were lucky enough to not need the wet weather gear. By the time we got to Cromwell the weather was warm but starting to blow a bit.
From Cromwell up through the lakes district to Tekapo the wind was atrocious. If it had of been raining we probably would have turned around. In some parts of it the wind was like an extra brake and the little engines were working very hard in 3rd gear for long sections. What would normally have been a fantastic ride on a nice day was proving to be very character building. I have been on rides like that before where bikes have seized with the additional stress and the engines tune was borderline to begin with. Luckily for us our bikes were solid but were getting a good thrashing.
Closer to Fairlie, the wind was behind us and it was awesome to pass a few cars.
We stayed for 2 nights, met some great fellow travellers and spent the evenings relaxing with the compulsory box of beers and accoutrements. The ride home was completely different to the ride up and we made good time getting back.
Looking forward to the next one already.