Motoretta Tourist Trophy 2015.
This was the first of the event previously known as the Mille Miglia Scooter Challenge.
Christiaan from  Retroscooter and his hard working team outdid themselves this year with a sublime event. With around 70 scooters taking part this year the scene was set for some serious competition and is an indication of how well this event and its organisers are regarded in New Zealand.
This year having two classes – Trophy and Tourist proved to be a very shrewd move with teams either wanting to push themselves and their machines hard or to just complete the event and have fun as a team. Regardless of the class – everyone had fun (except maybe Pol..) and there is an awesome fellowship developing between the different teams now that there has been a few events and everyone is getting to know each other.
Team Arscrac entered in the Trophy class this year and came in 6th out of the 12 teams in that class. All riding older, piston ported Vespa scooters we had a few minor issues as you might expect from classic 50 year old machines. Some of us have had the engines and suspensions updated both for reliability, comfort and to be competitive and some proudly show their age with patina and period accessories. Another big effort by our Australasian contingent to take part this year and made for an overall good time.
We all congregated at "Capn Crac's" place this year, where he has recently built an awesome shed for his new business and after some minor fettling with the scooters we put a few miles on the new motor then had a BBQ, a few beers and enjoyed some scooter visitors.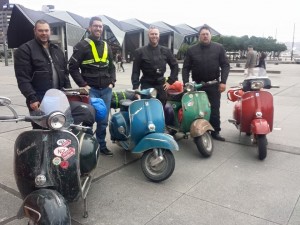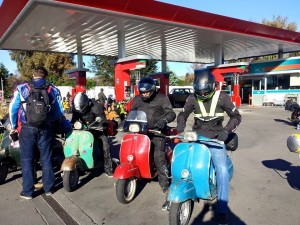 I managed to join the 'Super Seize" club this year with an unexpected rear wheel lock-up and skid to a halt moment on my SS180, something that a lot of SS riders have done over the years. Luckily for me it was on a straight piece of road with not too much traffic around and after a moment to compose myself (Far Canal) , my team mates managed to get it going again after a quick push down the road. Up until then the scooter had been performing exceptionally well thanks to an engine rebuild by Mike Salmon from Not a Motorcycle Shop in Upper Hutt. With a fresh motor the scooter was a joy to ride, especially on the hills, however the change from the main fuel tank to the reserve had leaned the mix out enough to induce a soft seize. After that the scooter ran just as well with no obvious lack of power but to be honest you do start to wonder if it's going to happen again….
Triumph Tigress
This year, an Auckland based team showed up on four Triumph Tigress scooters and stole the show.
The Triumph Tigress, also sold as the BSA Sunbeam, was a scooter designed to have good performance and handling for the motorcycle enthusiast. The scooter was available with a 250 cc four-stroke twin or 175 cc two-stroke single-cylinder engine. Both engines were forced-air-cooled. The two-stroke was a development of the BSA Bantam engine but the four-stroke was a completely new parallel-twin with gear rather than chain drive to the gearbox. The contact-breaker fed two ignition coils, each of which had a lead to its spark plug without a distributor. Drive to the rear wheel was by a fully enclosed chain in an oil bath. Both versions had four, foot-operated gears. Some of the 250 twins were fitted with an electric starter and a 12 volt (not 6 volt) electrical system. The 250 twin sold well and could do 70 mph (105 km/h) with efficient suspension and good road holding despite having only 10-inch wheels.
The only problem was build quality: it was sometimes said that a Tigress was a joy to own so long as someone else was paying the repair bills.
There must have been some epic days and nights to re-build the Triumphs with Vespa disc braked front ends and 4 Stroke 400cc Suzuki enduro motors. All the modifications to get everything into the frame and body shell of a 50 year old scooter showed commitment and a touch of madness from Team Foreplay. Just the time and energy, let alone the cost, to get these machines built to a time frame and the inevitable problems with repowering anything would have been pretty high. However, the scooters just looked and sounded fantastic. These weren't bodged death traps either as a very high standard of mechanical engineering, welding and fabricating was evident when you had a good look around these machines and you could see that a lot of thought had gone into how these builds could be achieved.
The Triumphs went on to win the event and were well ahead of most of the scooter technology on the Motoretta this year with what they had put together. There were some grumbles about them not being in the right spirit of the Motoretta and having too much of an advantage over most classic scooters, however in my opinion, they have just opened a door for a whole new type of scooter class. Whether that is something for the Motoretta event or not we will have to wait and see as there will be ramifications for the organisers and any future events around the legalities of modified machines.
Good on them for doing something different and making a damn good job of it.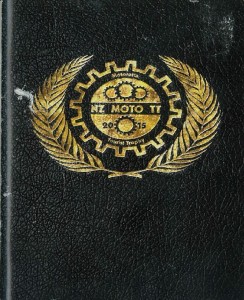 This years event also featured some technology for keeping track of the riders with riders given a passport/route book the morning of the event in their goodie bag. "Each team members passport will have a QR number on the back which will be used for logging times. At the start and finish of each stage the rider must scan his passport on the timekeepers iPad. Departure times will be 1 minute apart, with the leading teams leaving last. This will be your recorded start time, regardless of how late you leave. Arrival time is taken from the last team member to arrive at the checkpoint (or from the second to last team member when the abandoning of a member is notified to a race official)"
"There will be a lunch stop each day for at least 15 minutes. There is no maximum lunch time however remember it will get dark around 6pm" this was a portent of things to come as with last years event most teams had time on their side and just had to maintain a steady speed without getting lost to be at the last daily checkpoint before dark. This year the times were shorter and riders had to push to get home on time and maintain a healthy points score however a breakdown or a wrong turn impacted on your day in a big way. Last year not too many teams came home in the dark but this year there were quite a few, team Arscrac included.
Near the end of day one we had travelled north from Whanganui and missed the turn off to the Raukawa Falls YMCA camp, where we were all staying for the next two days. We carried on up state highway 4 for an extra 20 minutes or so before, luckily for us, we were flagged down by a lady in a Toyota Prado who told us we had gone past the camp. By the time we got back to the site it was nearly dark and this cost us a few points.
Like all of these events so far, there are always things that just make it so worth doing – other than getting to ride your scooter with your mates.
Andrew, a well known and respected scooterist from Palmy, built a 1951 Vespa based on the Sei Giorni 125 – which was developed for trial racing in Europe, from scratch for this event. An impressive effort and a very handsome scooter that not only looked the part but also completed the event. Put together with a mixture of scooter parts and a whole lot of Vespa know how, he is well known for completing high quality restoration and custom projects. He goes hard and then he goes home – Respect.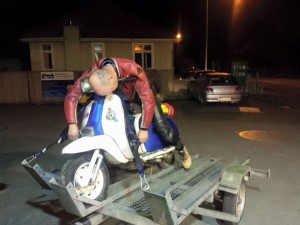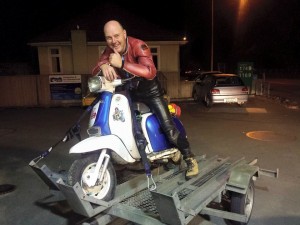 Pol, also a well known and respected scooterist from Auckland was riding his Lambretta this year (unsure why as he has a very fast small frame) and was unfortunate to run off the road, down quite a steep bank and into a … wasp's nest. The irony of a Lambretta in a wasp (Vespa is Italian for wasp) nest was just too much and you couldn't script that for a comedy show. The landowner and the support crew, bravely all lent a hand to get him out before being stung to bits. Thankfully he and his scooter weren't too badly damaged, however he did complain a bit about a sore wrist which later, turned out to be a broken arm. He soldiered on and decided it was not safe to ride his scooter but then ended up helping the support crew and Fran with the running of the event. He goes hard and then he goes home with a broken arm – Respect.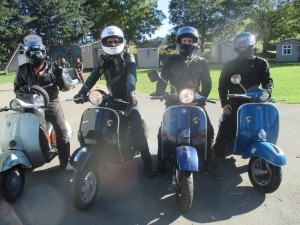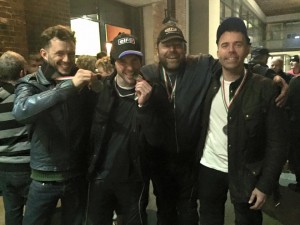 Team Calvary got second place this year with 3 new riders joining up with Matt Brookes AKA Mr Skoot from Wellington. Chasing the Triumphs would have been a mission but they nearly pulled it off. Matt has had some mixed results over the years with scooter breakdowns and crashes but deservedly finished this event with only a couple of scrapes. One of the most experienced scooter riders around he thrashed his 8″ wheeled super pretty hard over the gravel stages and word has it that he was a very lucky man to actually ride off the Rimutaka hill stage. They go hard and then they go home – Respect.
Hailing, and I don't mean the lumpy rain we get, from the deep south I hadn't been on almost any of the roads we were to cover during the four day event. On reflection, almost a month later, I can't think of many better roads to have done an event like this on. Not quite so much gravel this year was probably a good thing for the majority of riders especially in the trophy class as you had to push to maintain a competitive time. The Akatarawa, The Forgotten World Highway, The Gentle Annie and the road over the Rimutakas into Wellington, were probably my favourite roads.
The accommodation was a good standard this year and my team didn't even notice the snoring at the YMCA camp. There were some late nights had by teams welding up this and that and stickers mysteriously appearing on scooters, motors being retuned and parts replaced and a general good feeling all round.
Whats going to happen with this event next year is that all participating scooters will have to be registered and warranted so whether some teams can get their frankenskoots together in a timely manner remains to be seen. I think we will see faster scooters in the trophy class and teams will need to look at what they are going to ride to be competitive. The PX200 engine and scooter will feature prominently in the Vespa camp and the hard core Lambretta riders, who are generally riding faster machines, will be looking more at their reliability and fuel consumption.
Looking forward to it already.