Waiheke Scooter Rally
Recently we were lucky enough to attend this event as an addition to a planned family holiday to the north island. Big thanks to Christiaan from Retroscooter who was kind enough to lend me his SS180 for the rally and to put us up for the night in Auckland – respect.
The Retroscooter Cafe and Workshop was undergoing a transformation as new flooring was being installed to go with some of the other changes the team had made to make the place bigger and brighter. The coffee was excellent and it was great to catch up with some local scooterists while there. The workshop has been very busy to date and there have been some good sales for people wanting classic scooters with a reliable local workshop. Christiaan has some good ideas for his new business and I am sure he will do well.
Some of us left from Retroscooter to travel to the ferry terminal on a warm sunny day via the motorway and being from the deep south, where we don't have motorways, navigating the traffic was an interesting experience on a scooter. To be fair the SS went very well considering the weight it was carrying. The trip across to the island on the ferry was helped by drinks from the bar however it looked like the weather had changed for the worse with the rain and the wind starting to blow a bit but this was going to be the norm for the next three days with changeable conditions.
We had organized to stay with two of the nicest people on the planet, Aaron and Laura, so Mrs JC and Laura had gone over on an earlier ferry to sort out the digs for the event. They had organised an awesome house with a deck and all the amenities and within walking distance to Oneroa for us. We have stayed on the island before but this accommodation was outstanding plus we had some pretty good "flatties". Aaron and Dan had ridden up from Wellington clocking up around 700kms on the mission to the event – awesome stuff. I rode down to meet Aaron off the ferry to show him the way to our accommodation but lost him on the way back to the house – sorry about that mate.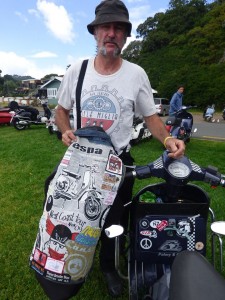 A dinner had been organised at the Mudbrick Restaurant for the Friday night and as per a lot of scooter events people arrived throughout the evening. It was great to catch up with Lance and Ant from the Napier scooter boys and Shaneo who were all staying at a backpackers somewhere but had made the trip north. Lance or 8 Ball as he is known to us scooterists had a serious crash a while back that kept him off the road for quite some time. A very likeable man with a big heart and an awesome sense of humor, his trusty PX200 is now on its 3rd motor and he can be seen at scooter events in both islands at any time as he likes to travel. Getting back on the scooter must have been hard but ride he does, and in my opinion, he is the epitome of why we are into scooters and do what we do – Big ups and respect my bro!!
The Restaurant is part of the local vineyard and the views are awesome. The service was excellent however due to the number of diners there was a long wait for our main meal, which when it arrived, was very good. Samantha and Jason had ridden to the restaurant and were well rugged up for the trip home as it got dark and quite cold by the time we all left. All in all, quite a busy day, and everyone was really looking forward to the next part of the rally.
The "amazing race" was the event planned for the Saturday leaving from Onetangi after a BBQ breakfast. It looked the the rain was going to spoil our day but after a few showers it cleared up. Big thanks to the BBQ crew who put on a great start to the day. Everyone was paired up with a partner to ride around the island getting clues and performing tasks as directed by Teresa and her team in a time trial type of event, with the winner being whoever completed the route in the shortest time. I was teamed up with Gnu (my apologies, if I have spelt this wrong) a very tall man riding a white small frame. Gnu was working on a PX at Retroscooter just before the event – hope you have got it sorted out. If you have been to Waiheke before you will know that there are a few gravel roads around the place and like all scooter events it is inevitable that you will need to ride over them at some point. Following the map was straight forward on the roads however once we hit the gravel Gnu was off! Embarrassingly I was having trouble keeping up on the SS, partly because it wasn't mine and I didn't want to fall off it but mainly because Gnu is quite mad. To be fair, the gravel on the roads there wasn't as bad as some we found on last years Mille, however Gnu set us a cracking pace which looked like it would pay off as we caught up with a few of the early starters. It was a great ride for the day and we were going well until an unexpected fuel stop put a dent in our final time.
After a few drinks at the local Sandbar establishment, the prizes were handed out and some of us settled in for a bit of a session. We went for a meal and returned later to catch up with Ant, one of the Napier scooter boys, who had brought an LD scooter part up with him as I had recently purchased an LD frame for a possible restoration but on closer investigation it will more likely become some signage. Ant is another interesting man that has been around the scooter scene for ages and knows everything about Fiat cars and owns a few of them. Thanks very much for the part Ant.
The Sunday was about packing up and heading to Onetangi for the final day of catching up over brunch with a ride out and then making your way back to Auckland (or the mainland for us). Catching up with our roomies and Hone, who was riding a rather nice Sportique, was great. Chalky, another scooter identity from the Canscoot club in Christchurch and now lucky enough to be based in Waiheke had turned up to have a look. Riding his Lifan 200 powered Nzeta scooter but also having a classic green SS180 that's a bit of a legend in the mainland, just quietly, it was noticed that he had bought his man bag with him to the event. There's no problem with the man bag of course James, as we are all about that sort of stuff around here, but it was an interesting pink colour…. After a few laps around Onetangi some of us had to leave and catch the ferry.
For us, this event just capped off a wonderful 10 days in northland. We met a lot more awesome scooter people and caught up with some friends we hadn't seen in a while. Christiaan and Teresa we hope you will come to ours one day, however you will have to have wasp beer as there is very little Feijoa wine to be had in the deep south.